Our History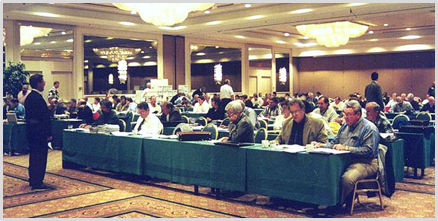 EBCO auction conducted in Dallas, Texas.
Over 150 Energy Auctions
Over 150 oil & gas auctions were conducted by EBCO and, at its peak, EBCO was conducting two live auctions per month and employed over 40 personnel.
EBCO may have been best known for spreading the success of the oil and gas auction to the industry as it conducted live, regional auctions throughout the country in cities such as Dallas, Houston, Oklahoma City, Tulsa, Pittsburgh, Denver, Midland, New Orleans, and Calgary.
1979-2000: 21 years of Oil & Gas Auctions
North America's largest oil and gas auction throughout the 1980s and '90s was EBCO, who pioneered the art of selling oil and gas properties through auction.
Achievements that stand to this day include creating the terms & conditions of sale for auctions, the bidder qualification form, the Well Data Profile, and writing and implementing Blue Sky laws in 21 states.
EBCO set numerous records including selling the largest no-minimum big valued property at auction.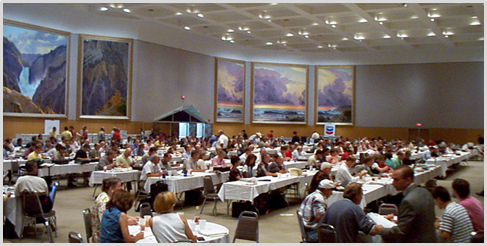 EBCO auction conducted at the National Cowboy & Western Heritage Museum in Oklahoma City, a frequent venue for EBCO.